Last year's writing contest was such a success, we'd love to hear from our students once again!
The contest is open to all students, and entries may be written in English or in French.
This year's Writing Contest is a CHALLENGE!
Students in grades 2 to 6: Describe the Kids Cup to friendly aliens from another planet!
Students in Kindergarten or grade 1: Draw a picture of the Kids Cup with friendly aliens participating in the fun!
Bring your instructions or your drawings to the school office (or send them to kidscupcmte@gmail.com) by Friday, March 1st 2019 to qualify!
Make sure to include the following information:
Student's Name
Student's Grade
Teacher's Name
The winners, chosen from each cycle, will be announced at the Kid's Cup Rally. There will be small prizes for the winners.
Happy writing and good luck!
***********************************************************************************
Below are some entries from 2017 which appeared in both the Cool School News and the Kids' Cup program.
Dexter S., Kindergarten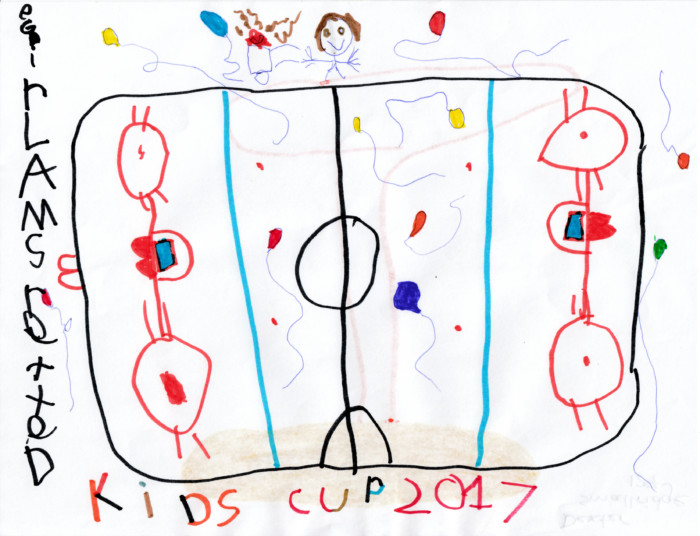 Noah B., Grade 1
Kassandra P.-T., Grade 2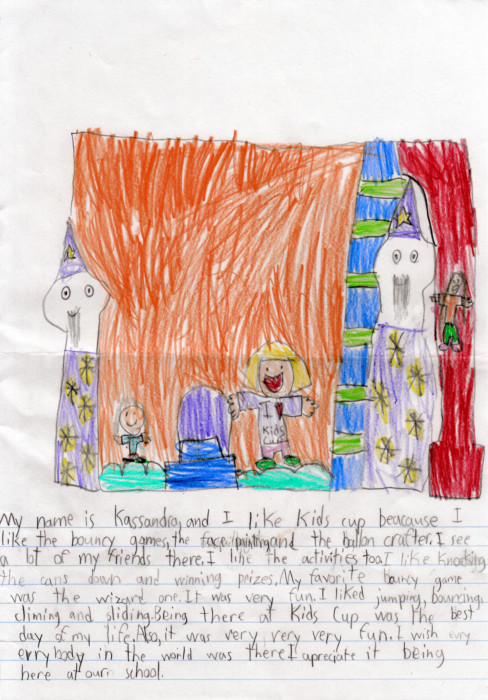 Lilia B., Grade 3
What Kid's Cup Means to Me
Once a year
We all gather here
The food is great (hot dogs, drinks and chips)
We can all celebrate
I remember my first Kid's Cup and it was clear
Would come back the next year
Kid's Cup is a place to get with your family
As we watch the parents play hockey
You see that very rarely
There are other parents who participate
Like: souvenirs and organization
And also the ones who do the other stations
Kid's Cup is a place that you can play
With your friend as our parents say
It's time for the day to end
It was so kind to let us stay up late I say
With a smile but in my heart I am so sad
To leave all this fun behind
That's what Kid's Cup means to me
Megan L., Grade 6
Kid's Cup Fun
Come all, come one
Join us for a night of fun.
Join us for the hockey game,
You don't have to have fame.
The best event of the night,
The Puck toss,
Almost none get it right.
But before all this happens,
It really does depend.
Children go to the mini gym,
Where fun is off the rim.
Jumpy castles are quite amusing,
Enough fun to keep you hooting.
At the end of the night,
Everyone leaves,
With memories of
Kid's Cup Dreams!!!!!
Hanna A., Grade 6
Kid's Cup
Kid's Cup is not about who wins and loses! For me, Kid's Cup is a night to have fun and to spend time with your friends and family. We all show our school spirit when Kid's Cup comes around! I have been going to Kid's Cup for my entire life as I have three older brothers who have all past through Saint Lambert Elementary. I still love cheering for our team and spotting my teachers in the crowd. I cheer until I have no more voice! It's always so fun and it helps raise money for our school. I can't wait for Kid's Cup this year!
Eva G.
A Cheer
Kid's Cup is the BEST!
Forget about the REST
It's better than a TEST
So come and be our GUEST!